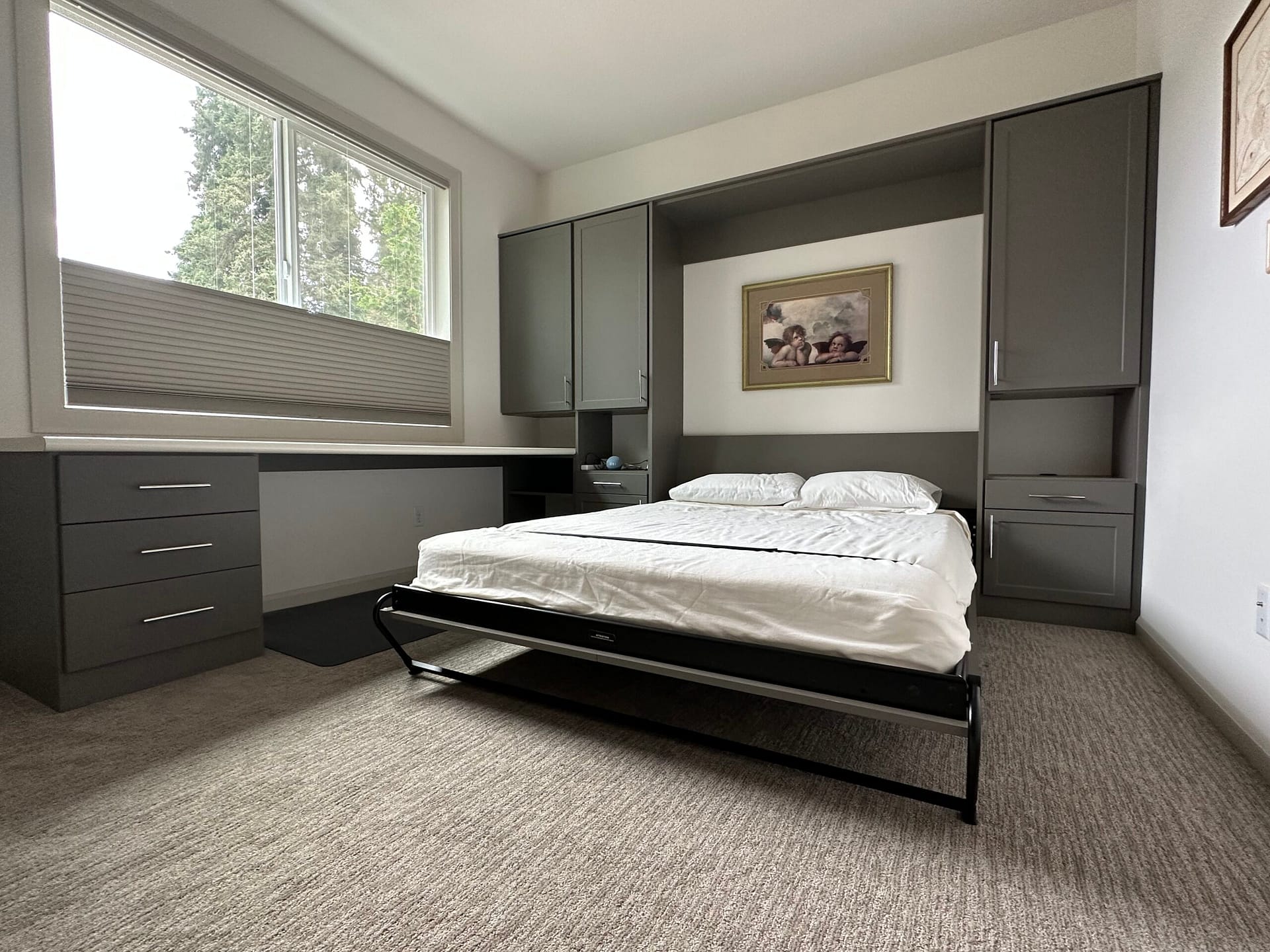 CONSULTATION, DESIGNING, & INSTALLATION
WALL BED HOME OFFICE
A client in Lake Oswego, OR reached out to us needing a murphy bed/wall bed for a hybrid home office and guest room combo. We came up with a design that made the room feel like an office by day and guest room by night. Professional, yet modern and comfortable. This has some fun accessories like LED lights.
CONSULTATION, DESIGN, Planning, & INSTALLATION
MURPHY BED WITH DUAL SIDE SHELVING
A client did a free consultation with us needing a murphy bed with storage in a library room. We designed a plan for free working with the client to come up with a floor to ceiling solution. The installation went smoothly and the client is enjoying their new space!
CONSULTATION, DESIGN, TEAR-OUT, AND INSTALLATION
WALL BED WITH HOME OFFICE AND STORAGE
This was a fun design an a garage conversion to a living room hang out space and guest bedroom. It has lots of wall to wall storage and drawers along with a beautiful storm grey finish. This was a client in Vancouver, WA.
CONSULTATION, DESIGNING, & INStALLATION
MURPHY BED WITH BUILT-IN BENCH
A client in Beaverton, OR called us for an entire bedroom make over. They wanted a multi-purpose space for a guest-room and home office. The client wanted to maximize all the space in the room with a murphy bed, floor-to-ceiling storage, and bench seating along with a desk for working.
SELECTED REVIEWS
HEAR FROM OUR PREVIOUS CLIENTS
I am impressed with the professionalism and exectution of the project by this team. Highly efficient, easy to communicate with and definitely know their craft. Thanks for an incredible result.

MARK RILEY
client


Had a great experience with my custom wall bed design! They were the most competitive out of three bids. I received. The installers were very neat and courteous. I highly recommend them.
KRISTINA VIERRA

client